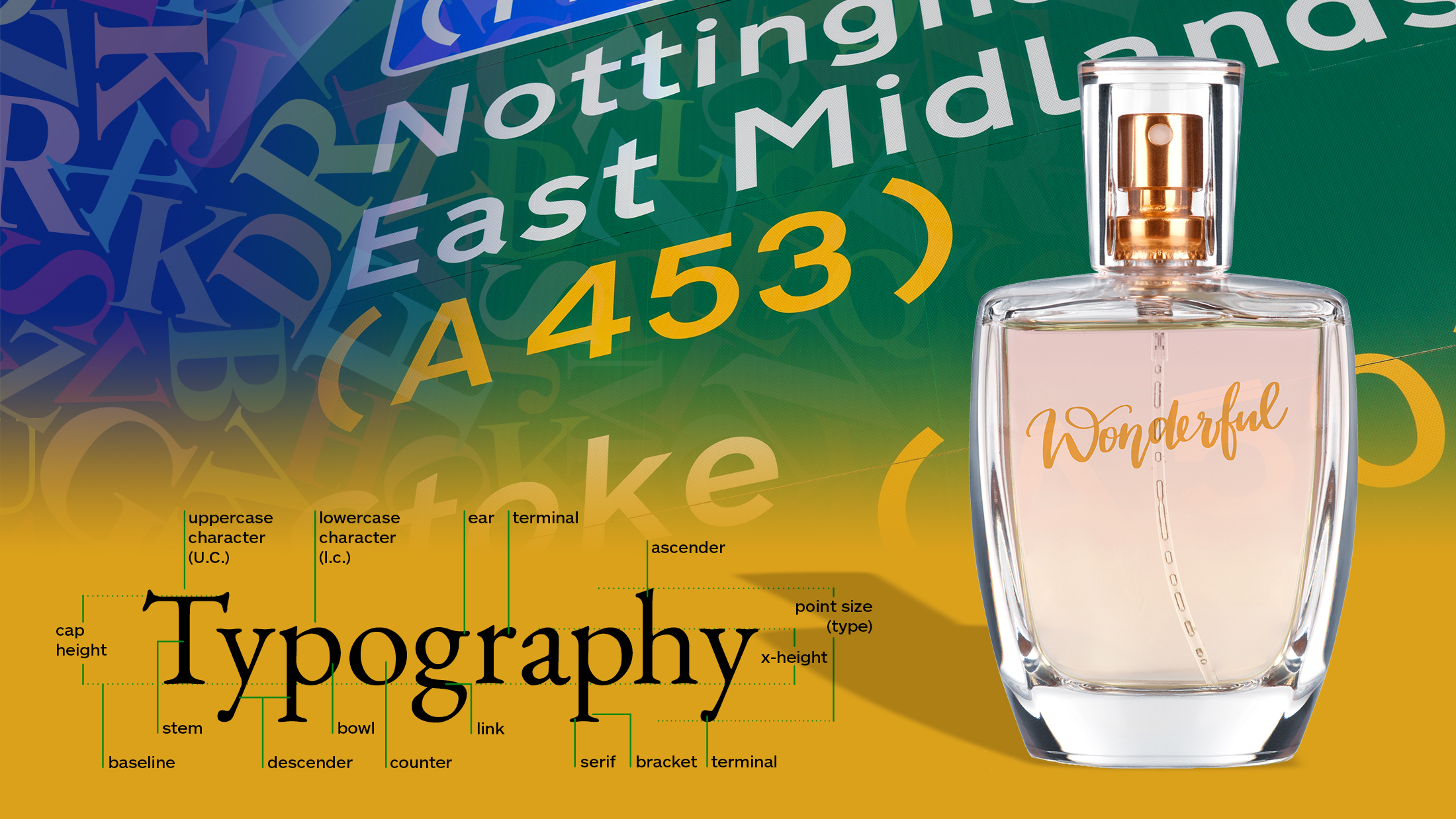 Breathing life into words
Imagine a parallel universe where there's only one typeface in existence. How would we convey the radically different messages we see on, say, motorway signs and advertising for women's perfume? Selecting typefaces which provoke the desired reaction in the client and reader has to be one of the most interesting and satisfying elements of a graphic designer's job.
Fortunately, there's an abundance of typefaces in our universe to choose from! Some very familiar household names, like Helvetica and Times New Roman, as well as thousands of lesser-known varieties. The key to any piece of graphic design is selecting typefaces to suit the project and the message the client wants to get across.
There's so much to consider when it comes to choosing typefaces – they're much more than just a pretty face! If the designer isn't presented with a comprehensive set of brand guidelines, they will use their experience and skill to answer questions like, 'How will the typeface be viewed – up close on a letterhead or from a distance on a billboard?', 'Which typeface fits the tone of the piece?', 'Which fonts complement each other?', 'What are the current font trends to make the piece contemporary?', and so on.
I won't get into the finicky matters of kerning, small capitals, non-lining numerals and baseline grids, but it is worth listening to my inner geek while I cover a couple of basics about typefaces, fonts, and types of fonts…
Typeface v Font – what's the difference?
This gets typography nerds into a bit of a lather, although these days most people use the terms interchangeably. To cut a very long story short, 'Typeface' refers to the design of the letterform, whilst 'Font' is the delivery mechanism (i.e. the bit of software) that allows you to install, access and output the design. This all had much more significance back in the days of metal type, but not so much now we're all hooked up to our desktops.
There are three types of fonts:
Postscript / Type 1
      Developed in the 1980s by Adobe.
True Type
      Created by Apple and Microsoft and released in 1991 for use in their operating systems.
Opentype
      Developed in 2000 by Adobe for use across multiple platforms, opentype files support up to 65000 characters which allows for numerous styles and variations to be contained in a single font file.
So, Postscript / Type 1 fonts were created nearly 40 years ago. Yes, the software is pretty ancient, although it is currently still supported. The key thing that any designer who knows their onions will tell you is that these fonts won't be available from January 2023. What this means to the client with a huge back catalogue of printed material, is that it will be possible to reprint those documents but no longer edit the text therein from the end of this year. This may well be quite a big deal to a lot of people but fear not, there are solutions!
In some cases there may be an equivalent Opentype font which can be substituted, or your clever designer might be able to find an alternative but very similar font (using their skilled eye to decipher stems, bowls, serifs, terminals…) which will allow for a reasonably seamless transition, but it's worth bearing in mind that any change in corporate typeface (whether it's because of the demise of postscript fonts, or re-branding) will probably mean the text in your existing documents will re-flow, causing a change in page counts and likely the requirement to move accompanying imagery, tables or graphs.
The subject of typography is vast and fascinating – viewed from a historical perspective it charts the development of the printed word from as far back as the 15th Century, and there are lots of really interesting books, if you're inclined to learn more. Alternatively, trust in your designer to handle your words with the utmost care and create a timely, functional and beautiful document – whatever it may be!